Press Room
Florida Kidney Cancer Meeting A Big Success
06/11/2009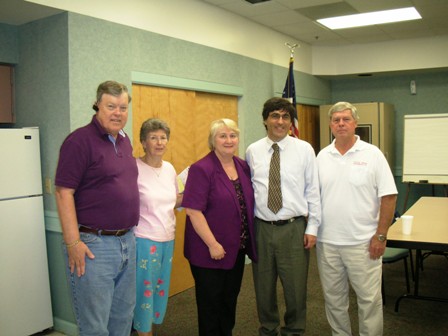 Left to right- Butch Goble, Linda Sypher, Peg Ulrich, Dr Mayer Fishman, and Don Ricigliano
The May meeting of the Kidney Cancer Association was held a the Venice Health Park Lions room on May the 27th. We were fortunate to have Dr M Fishman, M.D. PhD. from Moffitt Cancer and Research Center in Tampa as our quest presenter. Dr. Fishman is an Associate Professor at Moffitt who has authored many articles relating to Kidney Cancer and other Genitourinary diseases. His area of patient care covers many treatment modalities, clinical trials, genetics of the disease.
At this presentation, he was able to provide a general outline regarding Kidney Cancer, it's various types, various treatment options including surgery. Each area was explained in detail and presented to the group in a manner which allowed for understanding for us all. The general presentation was followed by a period for questions and discussion.
Thanks to the efforts of Dianne Comforte, the administrator of the area in which Dr Fishman is located, we were able to arrange this southern meeting and we are hoping to utilize more of the physicians form Moffitt in future presentations.
At this meeting, we had quite a diverse geographical cross section of attendees. The participants were from Englewood, Venice, Naples, Cape Coral, Fort Meyers and North Port.The logistics of travel seem a bit overwhelming but there appear to be no other Kidney Cancer Support groups locally. The Kidney cancer Association has been invaluable in assisting us and providing material for distribution and to increase awareness.
If you or anyone you know has had a Kidney cancer diagnosis, please feel free to contact us at 941-698-9234.