Press Room
Uplifting Athletes at Ohio State Raises Awareness for Kidney Cancer
07/31/2008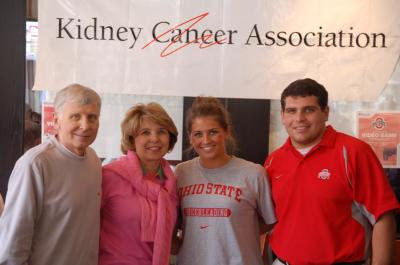 Courtesy: Pat Kindig, Dir. of Public Relations and Branding
http://www.OhioStateBuckeyes.com
The Daniels family: (from left) Joe, Kathy, Kaitlin and Matt
FOR IMMEDIATE RELEASE:
July 31, 2008
Inaugural event a great experience for players and fans
COLUMBUS, O.H. (7/31/08) –The Ohio State chapter of Uplifting Athletes' inaugural event was a great success.
"Our main objective today," said Matt Daniels, "was to get this off the ground and to raise some awareness about kidney cancer as a rare disease." Matt started the Ohio State chapter as a member of the Buckeyes and is now an intern with the coaching staff. Matt's father is a kidney cancer survivor.
Kidney cancer is considered a rare disease by the National Institutes of Health because it affects fewer than 200,000 Americans. Rare diseases typically lack the support of more common diseases, however there are more than 6,000 rare diseases affecting an estimated 25 million Americans. Uplifting Athletes helps college football players use the popularity of their sport to bring more attention to these rare diseases.
"There is no question that the Buckeyes helped advance our mission today," said Scott Shirley, executive director of Uplifting Athletes. "To engage the fans and the media the way that they have with this event, then to use it as an opportunity to raise awareness for a rare disease they are passionate about, it's really a win-win situation."
Ben Kascandi, wide receiver and president of the Ohio State chapter, was excited about the support from his teammates. More than 60 football student-athletes showed up to take part in the organization's first event as either participants or volunteers. "Rare diseases, especially kidney cancer, are a great cause and this was perfect for our team chemistry heading into camp."
"Now that it's off the ground, we can run with it," added Kurt Coleman, safety and vice president of the Ohio State chapter. "We are already talking about some things we can do next year as an organization to help this great cause."
Something else unique about Uplifting Athletes is that the chapters are run by current football student-athletes, providing them with opportunities gain practical job skills.
The charity video game tournament was won by Donald Washington. The event also provided fans with a unique opportunity to interact with and even play against the Buckeyes.
Uplifting Athletes at Ohio State have raised over $2,000 with the charity video game tournament. They are still accepting donations. Please visit www.upliftingathletes.org for more information.
Uplifting Athletes, Inc. is a 501(c)3 nonprofit organization whose mission is to leverage college football to change the perception of rare diseases and raise them as a national priority. University chapters are
operated by current football student-athletes and raise funds and awareness for charities that support a rare disease. Ohio State joins Penn State, Maryland and Colgate in the Uplifting Athletes program. For
more information about Uplifting Athletes, please visit www.upliftingathletes.org.