Press Room
Cancer Clinical Trials: A Commonsense Guide
06/19/2012
Book Review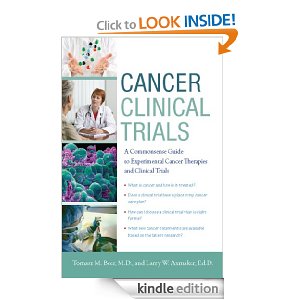 Topics covered include:
What is cancer and how is it treated
Does a clinical trial have a place in my care plan
How can I choose a clinical trial that is right for me?
What new cancer treatments are available based on the latest research?
Authors Tomasz M. Beer, M.D., and Larry W. Axmaker, Ed.D., have written an excellent guide to cancer clinical trials. Kidney Cancer Association Chief Executive Officer, Bill Bro, praised the book, saying, "This is one of the best books I've read that demystifies the complex world of cancer clinical trials. The is the one book that any patient contemplating entry into a clinical trial should read. It clearly demonstrates the value of clinical research, without overwhelming the reader who is already dealing with difficult medical issues."
Cancer Clinical Trials: A Commonsense Guide to Experimental Cancer Therapies and Clinical Trials is available from Amazon.com in both paperback and Kindle editions.